We are dedicated to these brands:

We are dedicated to these brands:

Expert Paintless Dent Repair In San Francisco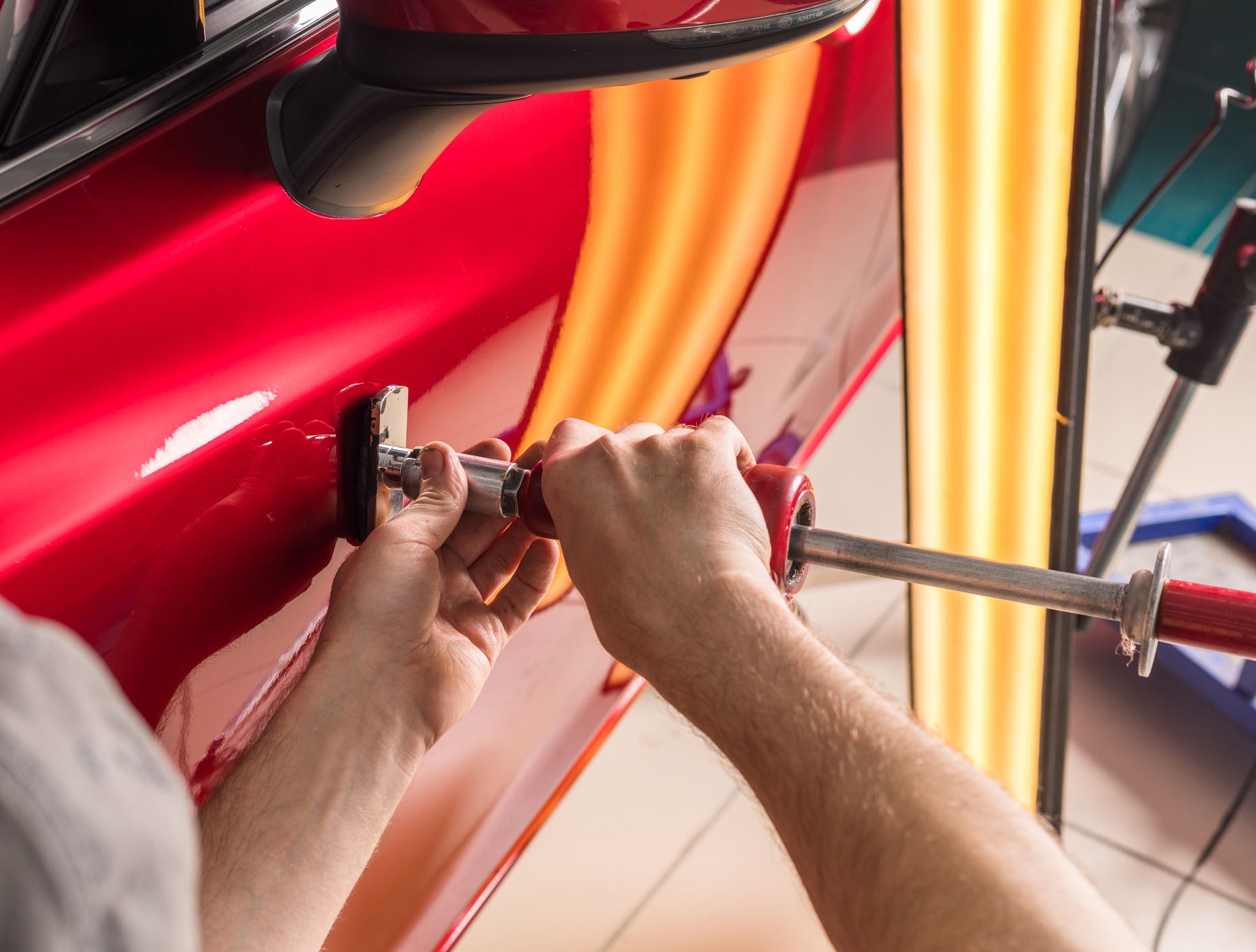 San Francisco is full of people on the go, and it can be next to impossible to stay caught up with everyday tasks like grocery shopping, laundry, errand running, and, of course, auto repair. However, no matter how tight your schedule is, there's one task that should always find its place in your itinerary.
Paintless dent repair, an affordable and quick way to revive dented car panels, is an uncommonly offered service in San Francisco. But thanks to our team, we have the capability right at our fingertips. Our amazing and equipped technicians specialize in all aspects of damage protection, from minor hail storm repairs directly to eliminating deeper or more complex issues. So, get ready to make your cool car again in the right condition.
Paintless Dent Repair Technique
Paintless dent repair, commonly referred to as PDR, is a revolutionary technology that effectively removes dents from vehicles without compromising the original factory finish. It requires the use of specific instruments and techniques, such as pushing, pulling, and massaging the dent from the inside out so that it returns to its former shape. This technique is widely popular among vehicle owners and auto-body professionals due to its many benefits. From Rolls Royce to amazing Ferrari sporty cars, paintless dent repair is the ideal choice for preserving the original finish of a vehicle.
How Paintless Dent Repair Works
The process of paintless dent repair is easy and available at a body shop in San Francisco. Some steps that may be included in this are,
Assess Damage
Damage evaluation is the initial stage of paintless dent repair. A technician will carefully analyze the area with a mirror and probe, locating all of the dents and other areas of damage that may need to be addressed. They will also consider the type of metal, its thickness, and the size of the dent to help determine the best approach and technique needed for repair.
Choose A Tool
After determining what needs fixing, a technician will choose the right tool for the job. There are several specialized tools, each designed to address certain kinds of damage and access difficult-to-reach spots.
Repair The Damage
The technician will start making adjustments to return the metal panel to its previous form. To do this, you'll need a specialized tool, and you'll need to start pressing on it from behind the dent and work your way out until the surface is flat again. Depending on the damage's severity and location, this procedure could be time-consuming and challenging.
Finishing Touches
Now the technician will make minor adjustments to remove any scratches or defects that may have been left behind after the work was completed. They may also apply a protective sealer to the repaired area to keep it safe from further damage.
Evaluate Work
After that, the technician will assess their own work and make any necessary revisions to ensure a flawless finish. After they have evaluated the results and determined that they meet their expectations, the technician will then be able to offer you an estimate of the total cost and the amount of time remaining. When this step of the procedure is finished, the repairs are typically finished within one to two days at the most.
Benefits of Paintless Dent Repair vs. Other Dent Repair Methods
This paintless dent restoration technique has gained popularity in recent years due to its coolest advantages.
Faster Process
The traditional approach to dent restoration can take several days to fix a single ding, whereas the paintless method can repair many dents in as little as a few hours. Because of this, the length of time a car owner must spend without their vehicle is significantly reduced, which makes paintless dent repair the option of choice for vehicle owners who have busy schedules.
Low Cost
Paintless dent repair is generally more cost-effective than the traditional method. It doesn't require any additional materials like filler or paint, which means there are fewer supplies to purchase and less labor involved, ultimately leading to a lower cost for the car owner.
Variety of Dents Repaired
The paintless dent repair process can be used to remove various dents, from minor door dings to large creases and hail damage. The technique is effective on metal panels, regardless of the type of car or its age. Paintless dent repair is also ideal for vehicles with custom finishes since there is no risk of damaging the original paintwork.
Resale Value
Luxury car owners often worry about the effect that dent repairs can have on the value of their vehicles. Fortunately, PDR doesn't affect the resale value of luxury cars. Because PDR doesn't involve sanding, filling, or painting, it doesn't leave any visible evidence that the vehicle has been repaired, maintaining its original factory finish.
Environmentally Friendly
Many traditional dent repair practices involve the use of harmful chemicals and toxins. Paintless dent repair, on the other hand, utilizes environmentally-friendly tools and equipment without the use of harmful chemicals. This makes paintless dent repair an eco-friendly option for car owners who prioritize sustainability.
Quality Results
Concerns about the repair's efficacy are understandable when trying out a novel approach. However, paintless dent repair is renowned for its quality results. Paintless dent repair experts use specialized tools to massage and reshape the dented area without compromising the exterior paint. The result is a smooth, dent-free surface that looks as if the car has never been damaged.
San Francisco's Leading Paintless Dent Repair Experts for Luxury Auto Restoration
Paintless dent repair is a fantastic process for the repair of minor dents and dings on vehicles. It is a cost-effective option that conserves factory paint, allowing customers to retain the original appearance of the state with minimal effort. At our body shop, experts specialize in paintless dent repair and use the latest techniques and materials for high-quality results. We strive to ensure a superior auto restoration experience for our San Francisco clients. Whether you are looking to restore your Ferrari or BMW, we have experience with all types of cars and are the premier choice for luxury vehicle restoration. Visit us today to get started!